Meet Matt Mason, the Mattel toy that brought space to life for boomer kids—and then disappeared
Mattel found savvy expats from the effort to get astronauts on the Moon to create the interplanetary future everyone dreamed of . . . for kids to play with in their sandboxes.
David Lidsky
This is the 39th in an exclusive series of 50 articles, one published each day until July 20, exploring the 50th anniversary of the first-ever Moon landing. You can check out 50 Days to the Moon here every day. 
Amid a dusty landscape anchored by a futuristic space outpost, two children, one white and one black, play among a fleet of lunar vehicles. The year is 1968—one of the most divisive and racially charged in recent U.S. history—yet here, on the Moon, harmony reigns.
A voiceover intones, "We'll all live here soon," this "exciting place/the world of space/as all the astronauts know/this world is swell/it's made by Mattel/with it, how far can you go?"
The scene is an ad for Major Matt Mason, "Mattel's Man in Space," an extremely popular but short-lived action figure whose rise and then rapid disappearance neatly mimics popular culture's obsession and then rapid boredom with the mania around the Moon race itself.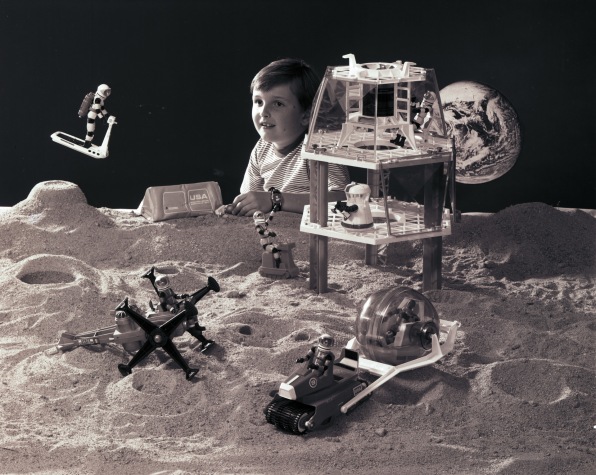 Mason and his elaborate accessories—from that three-foot-tall space habitat to the astronaut's jet pack, Space Sled, Space Crawler, Space Bubble, and Uni-Tred Space Hauler—were introduced in 1966, went on sale the following year, and were off the market before the Apollo 17 mission in December 1972. "Why did the Major mean so much to me? Because I was an Apollo baby," wrote Washington Post reporter Frank Ahrens in 1996. "The Major represented the idealism of childhood and American can-do-ism. If we had put a man on the moon in 1969, just eight years after President Kennedy commanded it, surely Major Matt's moon station would be a likelihood within a few years."